Protect SNAP: National Call-in Day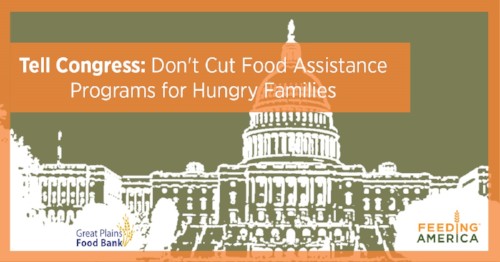 Join us on Tuesday, May 8, for national call-in day to protect SNAP benefits from cuts in House Farm Bill.

A few minutes can make a world of difference for our hungry neighbors.

Simply dial 1-888-398-8702 and put in your zip code. You will immediately be routed to your representative where you can share your message.

Use the following talking points when visiting with your representative's office:
As a resident of [state city name & state], I'm concerned about the recent farm bill released by the House Ag Committee.
The bill makes severe cuts to SNAP through burdensome work time limits and restrictions on eligibility, which will ultimately mean longer lines at food pantries and soup kitchens.
Unfortunately, our state's food bank and food pantries are already stretched thin and will not be able to fill the gap that SNAP could leave. Cuts to SNAP will negatively impact our hungry neighbors and will increase hunger in our state. 
I'm asking you to stand up for our state's hungry by encouraging the House Ag Committee and House Leadership to come up with a bipartisan bill that protects and strengthens this vital program.
Be certain to thank them for their time.
Additional Resources
Advocacy Playbook. ConAgra Foods and the Alliance to End Hunger. 2015.
Communicating with Congress: Perceptions of Citizen Advocacy on Capitol Hill. Congressional Management Foundation. 2015.
---
CONTACT
TAKE ACTION TODAY!
Sign up as a HUNGER ADVOCATE!
Subscribe to our e-newsletter, ON THE TABLE
Schedule a presentation, EMAIL MELISSA